Posts for: September, 2018
By Dr. JoAnne Bernard, DDS., PA
September 20, 2018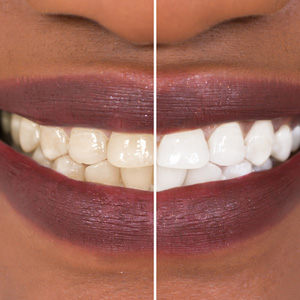 A relatively easy and inexpensive way to improve your smile is to whiten your teeth. In fact, you may even be able to do it yourself at home. Although there are differences between at-home and professional whitening, the former can still be effective.
That effectiveness, though, might be dependent on how well you understand what home whitening can do and what it can't. So before you purchase your kit, here are a few things to know about DIY teeth whitening.
Home kits are safe—when used as directed. Although nothing in life is completely risk-free, home whitening kits are relatively safe. But only if you follow the directions: If you overuse the bleaching solution beyond its intended use, you could wind up with permanent damage to your tooth enamel that can be costly to treat.
Bleaching solutions are relatively mild. Nearly all home kits use carbamide peroxide, a form of hydrogen peroxide, as their bleaching agent. Home kits usually contain no more than 10% of this agent, much lower than professional solutions. Used as directed, this amount of bleaching agent poses little to no risk to dental or general health. On the other hand, the weaker home kit solution does limit the extent of brightness you can achieve compared to stronger professional treatments.
For top results (or certain conditions), consider professional whitening. While you can obtain good results with a home whitening kit, professional whitening provides more precise brightness control and range, and may possibly last longer. That's because your dentist has more advanced techniques and equipment, as well as stronger bleaching solutions. And, if your discoloration originates inside your teeth, a home kit won't help—only a dentist can address that kind of discoloration.
Even if you decide to "go solo," your dentist can still give you advice on what to look for in a home kit, as well as tips for the actual procedure. But whether you whiten at home or let your dentist do it, teeth whitening can take years off your smile and give you a more attractive look.
If you would like more information on teeth whitening, please contact us or schedule an appointment for a consultation. You can also learn more about this topic by reading the Dear Doctor magazine article "Tooth Whitening Safety Tips: Are Bleaching Products Safe?"
By Dr. JoAnne Bernard, DDS., PA
September 10, 2018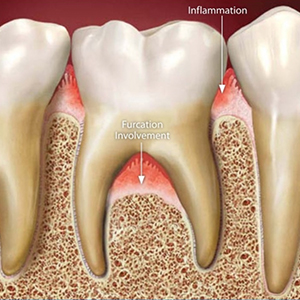 Periodontal disease may start in the gums' superficial layers, but it's not likely to stay there. As the disease moves deeper it can wreak havoc on tooth roots and bone as well as gum tissue attachments. Teeth with multiple roots are in particular peril because of the "forks" called furcations that form where the roots separate from each other. Infected furcations can be very difficult to treat.
We primarily treat gum disease by removing its main source, a thin film of bacteria and food particles called dental plaque that builds up on teeth. To remove it we most often use special hand tools or ultrasonic equipment to vibrate it loose. As the plaque and tartar diminish, the infection begins to wane.
But we can't be completely successful in stopping the disease if any lingering plaque deposits remain. This especially includes furcations where the infection can cause significant damage to the roots. Although cleaning furcations of plaque can be difficult, it's not impossible with the aforementioned tools and antimicrobial substances to disinfect the area.
The real problem, though, is access—effectively getting to the furcations to treat them. We may need to perform a surgical procedure called flap surgery where we create a hinged flap in the gum tissue to move it aside and access the root area beneath. Afterward we replace the flap and suture the tissue back in place.
In some cases, the infection may have already caused significant damage to the tissue and underlying bone. We may therefore need to graft gum or bone tissues to these damaged areas to stimulate re-growth. We may also need to surgically reshape the gum attachments around a tooth to make it easier in the future to access and clean the area.
These additional treatments around furcations can be very involved and labor-intensive. That's why the best outcomes occur if we're able to start treatment in the early stages of an infection. So, if you notice red, swollen or bleeding gums contact your dentist as soon as possible. Treating gum disease as early as possible will help ensure your tooth roots won't suffer extensive damage.
If you would like more information on treating gum disease, please contact us or schedule an appointment for a consultation. You can also learn more about this topic by reading the Dear Doctor magazine article "What are Furcations? Branching Tooth Roots can be Periodontal Nightmares."