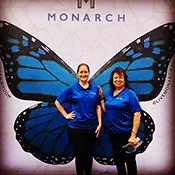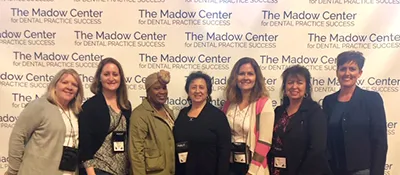 All our professionals at BERNARD DENTAL, strive to maintain the highest levels of accreditation and pursue ongoing education to stay abreast of the latest trends in dentistry.
The brief descriptions below are designed to familiarize you with our staff's training, professional credentials and work experience.
Dr. Bernard has been practicing dentistry in the Crofton/Bowie area for 30 years. From children to seniors, she offers complete dental care for every member of the family in a comfortable, trusted and convenient manner.

Dr. Bernard graduated Magna Cum Laude from University of Maryland Dental School, Baltimore College of Dental Surgery in 1988. She is an Omicron Kappa Upsilon Member, a National Dental Honor Society founded in 1914 to recognize scholarship and character in the dental profession.

Dr. Bernard has served as a Dean's Faculty Clinical Restorative Instructor helping dental students in the Dental School Clinics. She continues her dedication to the field of dentistry through attending multiple hours of continuing education each year, keeping up with current changes in the field of dentistry.

Linda joined our dental team 20 years ago, started as a Dental Assistant and changed her role to Office Manager/Billing Administrator. She has increased knowledge of insurance claims processing, helping to maximize patient's benefits.

Natalia - Expanded Functions Dental Assistant

Natalia has been part of our team since 2014. She received her dental assisting and Radiology license at Anne Arundel Community College and her Expanded Function Certification in General Dentistry at the Maryland State Dental Association, and keeps up with her Continuing Education. Natalia enjoys working together as part of a team that provides the best possible dental care.

Natalia spends her spare time with her husband and son, family and friends.

Tanja is a graduate of the University Of Maryland School Of Dentistry, with a B.S Degree in Dental Hygiene. With over 20 years of experience, she has had a pleasure of working in a myriad of areas within dental specialty - from working as a Dental Assistant, Dental Technician, to working as a Dentist in her home country of Serbia. She is also certified in administering local anesthetic and monitoring nitrous oxide conscious sedation, to increase patient comfort during dental hygiene procedures.

Her passion is assisting patients maintain their overall oral health, and minimize tooth decay, by providing highest form of preventive care. Tanja is a zealous advocate for increasing health literacy, and goes the extra mile for her patients, making sure that her patients have all the information to make wiser choices about improving their oral health. She is continuously educating herself by taking continuous education webinars and lectures, in the latest dental advancements. Tanja is a member of the American Dental Hygienist Association, Dental Hygiene Study Club, and Phi Theta Kappa honor society. She has also volunteered at the Veterans Affairs Dental Clinic and the Mission of Mercy.

In her spare time, Tanja enjoys spending time with her family, and her toddler twins keep her quite busy.

Vanessa - Dental Hygienist

Vanessa attended Loma Linda University in California and received her Bachelor of Science degree in 1994. She has worked for Dr. Bernard for over 20 years and is proud to be a part of a dental practice that has the highest standards in dental procedures and treatment care. She has a gentle, caring touch and loves sharing her knowledge of oral health care protocols that can improve a person's entire health and well-being by preventing diseases. She is an active member of an advanced dental hygiene study club and enjoys collaborating with other hygienists in the area.

Vanessa is busy with two children, two dogs and traveling with her husband to Ocean City, MD. She also has a passion for professional home organizing.

Claudia - Dental Assistant

Claudia has been part of our dental team since 2019. She obtained her Dental Assisting and Radiology certificate from the Dental Assisting National Board. 

She has 10 years of experience in the dental field. From working was a dentist in her home country of Cameroon and is now pursuing to get licensed as a dentist in the United States

In her spare time, Claudia enjoys cooking, reading, singing in her church choir, and spending time with her family. 

Jackie - Dental Assistant

Jackie has been part of our dental team since 2022. She received her Dental Assisting and Radiology license at Anne Arundel Community College. She keeps up with her continuing education. 

Jackie spends her free time reading, hiking, and sewing. 

Nora - Front Desk Scheduler/Dental Assistant

Nora has been part of our dental team since 2021. She received her Dental Assisting and Radiology license at Anne Arundel Community College and Dental Assisting National Boards. Nora keeps up with her continuing care. 

Nora spends her free time with family, relaxing outdoors, and is a student with the University of Maryland Global Campus.