Posts for tag: dental implant
By Bernard Dental
December 08, 2020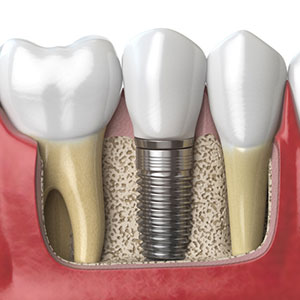 Getting a new implant tooth in only one day sounds too good to be true. But it's true—up to a point. Whether or not you can undergo an immediate crown replacement (attaching a crown to an implant right after surgery) will depend mostly on the underlying bone.
Traditionally, an implant crown isn't attached until several weeks after surgery to allow bone cells to grow and adhere to an implant's titanium surface (osseointegration). The gums are sutured back in place to protect the metal implant until it develops a durable hold within the bone. But this also leaves you with a noticeable missing tooth gap during the integration period.
A "tooth in a day" procedure gives you a full smile right after implant surgery. There is one catch, though—this first crown will be temporary and it won't be able to receive biting pressure.
Until the bone and implant fully integrate, attaching a full-sized permanent crown can damage the implant. To avoid this, the initial crown is slightly shorter than the future permanent crown. This prevents it from contacting solidly with teeth on the other jaw while biting or chewing, which can generate enough force to potentially damage the implant.
If you undergo an immediate-load crown on your implant, you'll have to return later for the full-length permanent crown. In the meantime, though, you'll avoid the embarrassment of a missing tooth in your smile.
With that said, the target bone must be healthy and intact for you to undergo a "tooth in a day" procedure. That isn't always the case with missing teeth—over time, bone volume can gradually diminish. The subsequent loss can complicate implant placement, which must be exact to achieve the most natural outcome. If extensive bone loss exists, you may need grafting to build up enough bone to adequately support an implant.
Even if an implant can be placed, the bone may still be too weak to allow for immediate crown placement. In that case, the traditional procedure may be the best course to allow the bone and implant to fully bond.
To determine if you're a candidate for a "tooth in a day" implant procedure, you'll first need to have a thorough dental exam that includes an assessment of bone health. If it's sound, you may be able to have a full smile right after implant surgery.
If you would like more information on dental implant restorations, please contact us or schedule an appointment for a consultation. You can also learn more about this topic by reading the Dear Doctor magazine article "Same-Day Tooth Replacement With Dental Implants."
By Bernard Dental
July 31, 2020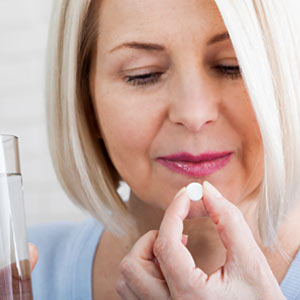 Dental implants are far and away the most "tooth-like" restoration available today for missing teeth. Not only do they look real, they also mimic dental anatomy in replacing the tooth root.
To install an implant, though, requires a minor surgical procedure. And, as with any surgery, that includes a slight risk for a post-surgical infection. For most patients this isn't a major concern—but it can be for people with certain medical conditions.
One way to lessen the risk for implant patients whose health could be jeopardized by an infection is to prescribe a prophylactic (preventive) antibiotic before implant surgery. The American Dental Association (ADA) recommends the measure for patients with artificial heart valves, a history of infective endocarditis, a heart transplant and other heart-related issues.
In the past, their recommendation also extended to people with joint replacements. But in conjunction with the American Academy of Orthopedic Surgery (AAOS), the ADA downgraded this recommendation a few years ago and left it to the physician's discretion. Indeed, some orthopedic surgeons do recommend antibiotic therapy for patients before surgical procedures like implantation for up to two years after joint replacement.
These changes reflect the ongoing debate over the proper use of antibiotics. In essence, this particular argument is over risks vs. benefits: Are pre-surgical antibiotics worth the lower infection risk for patients at low to moderate risk in return for increased risk of allergic reactions and other side effects from the antibiotic? Another driver in this debate is the deep concern over the effect current antibiotic practices are having on the increasing problem of antibiotic-resistant bacteria.
As a result, dentists and physicians alike are reevaluating practices like prophylactic antibiotics before procedures, becoming more selective on who receives it and even the dosage levels. Some studies have shown, for example, that a low 2-gram dose of amoxicillin an hour before the procedure can be effective with much lower risks for side effects.
If you're considering dental implants and you have a medical condition you think could be impacted by the procedure, discuss the matter with your dentist and physician. It may be that pre-surgical antibiotics would be a prudent choice for you.
If you would like more information on getting dental implants, please contact us or schedule an appointment for a consultation. You can also learn more about this topic by reading the Dear Doctor magazine article "Implants & Antibiotics."