Posts for tag: nutrition
By Bernard Dental
October 14, 2021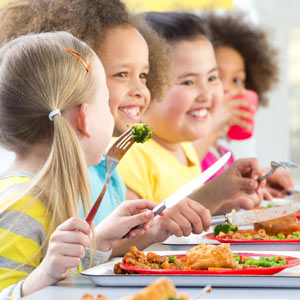 In addition to daily oral hygiene and regular dental visits, a tooth-friendly diet can boost your kid's dental health and development. You can help by setting high standards for eating only nutritious foods and snacks at home.
But what happens when they're not home—when they're at school? Although public schools follow the Smarts Snacks in Schools initiative sponsored by the U.S. Department of Agriculture, those guidelines only recommend minimum nutritional standards for foods and snacks offered on campus. Many dentists, though, don't believe they go far enough to support dental health.
Besides that, your kids may have access to another snack source: their peers. Indeed, some of their classmates' snacks may be high in sugar and not conducive to good dental health. Your kids may face a strong temptation to barter their healthy snacks for their classmates' less than ideal offerings.
So, what can you as a parent do to make sure your kids are eating snacks that benefit their dental health while at school? For one thing, get involved as an advocate for snacks and other food items offered by the school that exceed the USDA's minimum nutritional standards. The better those snacks available through vending machines or the cafeteria are in nutritional value, the better for healthy teeth and gums.
On the home front, work to instill eating habits that major on great, nutritional snacks and foods. Part of that is helping your kids understand the difference in foods: some are conducive to health (including for their teeth and gums) while others aren't. Teach them that healthier foods should make up the vast majority of what they eat, while less healthier choices should be limited or avoided altogether.
Doing that is easier if you take a creative, playful approach to the snacks you send with them to school. For example, if you send them to school with their own snacks, add a little excitement like cinnamon-flavored popcorn or cheese and whole wheat bread bites in different shapes. And make it easier for them with bite-sized snacks like grapes, baby carrots or nuts.
You can't always control what snacks your kids eat, especially at school. But following these tips, you may be able to influence them in the right direction.
If you would like more information on helping your child develop tooth-friendly snacking habits, please contact us or schedule an appointment for a consultation. You can also learn more about this topic by reading the Dear Doctor magazine article "Snacking at School."
By Dr. JoAnne Bernard, DDS., PA
March 02, 2017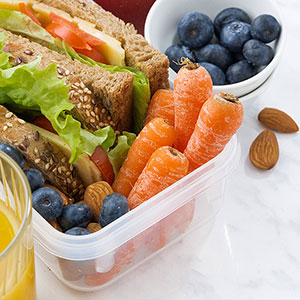 The food we eat not only provides us energy, but it also supplies nutrients to help the body remain healthy. The most important of these nutrients are minerals and tiny organic compounds called vitamins.
While all of the thirteen known vitamins and eleven minerals play a role in overall health, a few are especially important for your mouth. For example, vitamins D and K and the minerals calcium and phosphorus are essential for strong teeth. Another mineral, fluoride, helps fortify enamel, which can deter tooth decay.
Other vitamins and minerals serve as antioxidants, protecting us against molecules called free radicals that can damage cellular DNA and increasing our risk of cancer (including oral). Vitamins C and E and the mineral selenium fall into this category, as well as zinc for DNA repair.
We acquire these nutrients primarily in the foods we eat. But for certain people like older adults or pregnant or nursing women a healthy diet may not be enough. Any person who can't get enough of a particular vitamin or mineral should take a supplement to round out their nutritional needs.
If you don't have a condition that results in a nutrient deficiency, you may not see that much benefit from taking a supplement. In fact, taking too much of a dietary supplement could harm your health. For example, some studies have shown ingesting too much supplemental Vitamin E could increase the risk of heart failure or gastrointestinal cancer. And some dietary supplements can interact poorly with drugs like blood thinners or ibuprofen.
The best way to get the vitamins and minerals your body — and mouth — needs is to eat a healthy diet. Dairy products like fortified milk are a good way to get vitamin D, as well as calcium and phosphorus. Fruits and vegetables are a good source of Vitamin C. And while you can take in fluoride from toothpaste or other oral hygiene products, you'll also find it in seafood and tea.
While good oral hygiene and regular dental visits are necessary for dental health, your diet can also make a difference. Be sure you're getting all the nutrients your teeth and gums need.
If you would like more information on the role of diet in oral health, please contact us or schedule an appointment for a consultation. You can also learn more about this topic by reading the Dear Doctor magazine article "Vitamins & Dietary Supplements."